The most effective technology for IN-SITU SUBSOIL remediation
ISCORAPID treats contaminants in soil and groundwater much faster and more accurately than conventional decontamination procedures.
It is suitable for remediations in all soil zones that are contaminated by mineral oil, petrol, tar or organic solvents or other that are treatable with specific reagents.
All completed projects have shown the advantages of ISCORAPID compared to other remediation technologies.
ISCORAPID was developed by GEO-BOHRTECHNIK and is based on its  competence in sleeve pipe injection technology and on longtime expert knowledge in foundation engineering.
ISCORAPID

99%

99%

ISCO

80%

80%

PUMP & TREAT

60%

60%
decomposition rates over 99%
applicable on active sites
decomposition rates over 99%
applicable on active sites
Targeted injections into all soil zones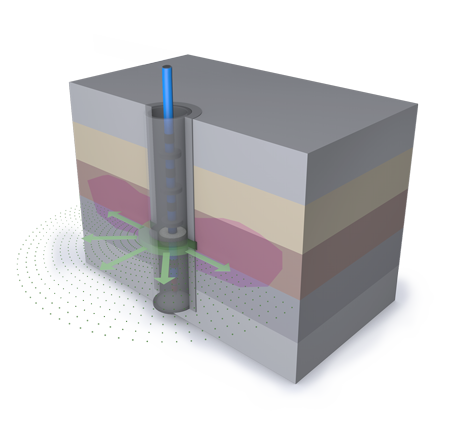 Limitations of conventional methods.

Conventional methods can not effectively operate in soil zones of low permeability. Contaminated groundwater can be extracted by Pump & Treat only from permeable zones. Coventional ISCO resp. infiltration of reagent doesn't reach contaminants in low permeable zones completely. So neither Pump & Treat nor conventional infiltration of reagent can entirely eliminate contaminants of concern.
ISCORAPID fills in those gaps by bringing contaminant and reagent into chemical contact by its levelized pressure injection. By this ISCORAPID reagent injection precisely targets in soil zone. This ensures a high rate of remediation success for reagent based applications.